ALWAYS HERE FOR YOU
The Y is a cause-driven organization that is for youth development, for healthy living and for social responsibility. That's because a strong community can only be achieved when we invest in our kids, our health and our neighbors.
Our Focus
The Y is for everyone. Our programs, services and initiatives: enable kids to realize their potential, prepare teens for college, offer ways for families to have fun together, empower people to be healthier in spirit, mind and body, prepare people for employment, welcome and embrace newcomers and help foster a nation-wide service ethic. And that's just the beginning.
This year, we will help well over 1000 people get involved at the Y who are struggling financially. This is made possible through a year-round effort to raise scholarship funds. Please let us know if you or your family could benefit from one of these scholarships.
Our Impact is Felt Every Day
With a mission to put Christian principles into practice through programs that build a healthy spirit, mind and body for all, out impact is felt when an individual makes a healthy choice, when a mentor inspires a child and when a community comes together for the common good.
Membership Benefits
You are a member of two facilities
•Massillon Family YMCA  •Towpath Trail YMCA
Nationwide Membership Privileges: Free guest access to almost every Y in the USA, outside Stark County.
With the Regional upgrade - adds access to all YMCA locations and member program rates at every Y in Stark & Summit Counties.
85+ FREE land & water group exercise classes to choose from
Child Watch - FREE drop-in childcare for members while they make use of the Y's fitness facilities
Greatly reduced rates on classes, programs and day care
10 days of priority registration for most classes and programs 
Fitness centers for adults and youth with trained staff to help you achieve your goals
FREE fitness center orientation
Open swim & gym times (schedules online, on the Y app & at welcome center)
Adult members, once enrolled and trained, have 24/7 access to the Fitness Center at the Towpath Trail YMCA
Nationwide Membership
Members can visit any participating Y in the United States and Puerto Rico through membership at their home Y, at no additional cost. Please contact the YMCA in the location you wish to visit ahead of time to ask about Nationwide Membership privileges or visit YMCA.net for a list of participating Ys.
Facilities Chart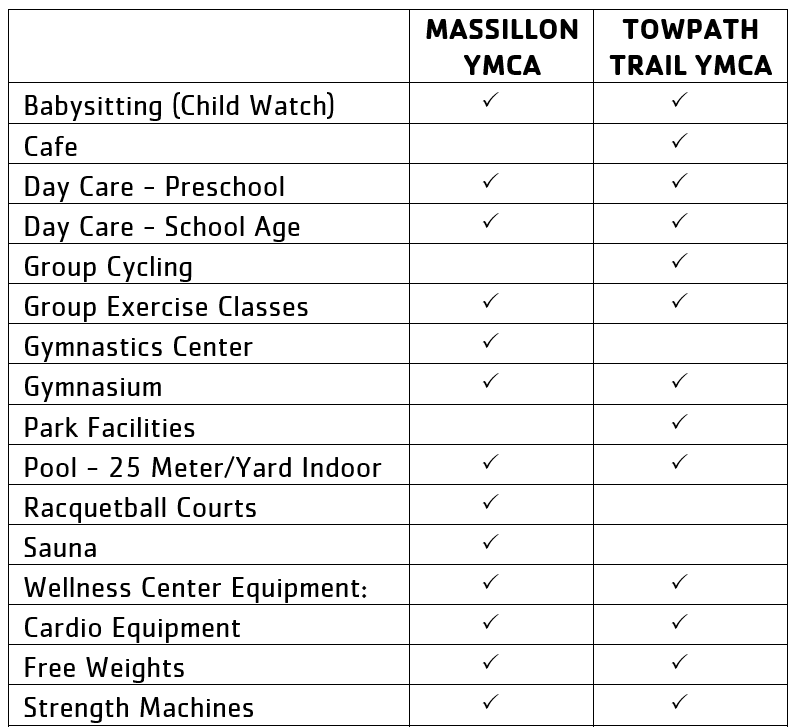 Membership Definitions
WESTERN STARK COUNTY Membership Types
Youth/Teen: Ages 6 to 17 (facility access without an adult for ages 10 to 17; member program pricing for all ages).
Young Adult: One adult between the ages of 18 and 28 years old.
Adult: One adult. Plus your dependent children in the home ages 0 to 5.
Family: For the purposes of a Y membership a family is one or two adults living in the same household who consider themselves family (e.g. your partner, spouse, sibling, parent) and their dependent children (0-25) also living in the home.
Senior: Anyone age 65 or older.
Senior Couple: Two adults living in the same household, in a relationship, and where at least one of the adults is age 65 or better.
REGIONAL Membership Types
Youth: Children age 6 to 12.
Teen/Young Adult: Anyone between the ages of 13 and 23 years old.
Adult: One adult ages 24 and over. Plus your dependent children in the home ages 0 to 5.
Family: One or two adults living in the same household who consider themselves family and their dependent children living in the home up to age 25.
Senior: Anyone age 65 or older.
Senior Couple: Two adults living in the same household, in a relationship, and where at least one of the adults is age 65 or better.
Activation Fee
Aka start-up fee or joining fee. This is an investment in the Y facilities, not payable again as long as your membership does not lapse more than 90 days.
Income Based Membership Rates & Discounts
Thanks to our generous donors, we are able to offer income-based rates to ensure that all members of our community have access to our programs, services and facilities. Association-exclusive membership rates are based on annual household income. Members report their income at the time of enrollment and verify their claim in one easy step within two weeks. Members wishing not to participate in the Income Based pricing may opt out at the time of enrollment. We also offer scholarships to those who qualify; the application is available at the Welcome Center.
Income Based Pricing: report your household income upon joining, the Y staff determines your unique rates right away, and within two weeks bring in a copy of your most recent federal tax return. You're qualified if your household income is less than $65,000 & you file a federal tax return.
Discounts: Complete our discount program form, provide proof of income and turn it into the YMCA. Give us some time and our staff will call you with what you qualify for.
Regional Membership
The YMCA of Western Stark County participates in the Summit/Stark Regional membership program. Western Stark County members have the option to upgrade their membership to "Regional". Regional members have access to all the YMCA branches and programs in Stark and Summit Counties, as a member at member rates. Please purchase your Regional membership at the location you will use most often.
Membership Payment Options
Memberships are non-refundable and not transferable.
Monthly Payment Plan
Easy Pay is an automatic monthly draft of membership dues from a bank account or credit card. You may cancel at any time by providing the YMCA staff written notice prior to office close on the last business day of the month.
Annual Payment Plan
When you join as an annual pay member you will pay a prorated first month PLUS 12 months. We'll waive the activation fee! For your convenience, the membership will automatically renew each year or you may cancel.
Short Term Membership
These memberships automatically stop after 30 days. Available as a single adult or teen/young adult. Short term rates are more than the monthly automatic payment plan but allow you to not provide account info and let you try us out. Ask the welcome center for prices.
Membership Regulations
Guests: Members must be 14 or older to bring a guest. The guest will be asked to provide identification, fill out a waiver, sign in, and pay a fee per day. Youth guests age 13 and younger must be accompanied by an adult. Members may bring a maximum of 2 guests each day. Each individual guest is allowed 3 visits per year. Members are responsible for the conduct of their guests. Any member allowing a non-member in the building dishonestly will risk the loss of his or her membership. Since it is contrary to the mission of the YMCA to be a sex offender, the YMCA does not allow such a person into the YMCA. Guest pass sales may be restricted during peak days/times.
An adult day pass can be purchased for $9.00, upon presenting a valid photo ID.
Any member allowing a non-member in the building will lose his or her membership.
A $5.00 replacement fee is charged for loss of a membership card or key tag.
Rates and hours of operation are subject to change without notice.
We will provide opportunities for members to be involved as volunteers.
Child Watch
Babysitting while you work out or take a class. Ages 6 weeks to 10 years.
Please see the current Newsletter for the Massillon and Towpath Trail Y's Child Watch hours.
Our child watch closes promptly at the times listed. Please pick your child up prior to closing times. Child Watch may close early if no children are present up to 45 minutes before our scheduled close time.
Child Watch Guidelines:
Children may stay for up to 1 and 3/4 hours.
There is a $2 charge for non-members.
Please do not bring sick children to the nursery.
Please have children changed and fed upon entering the nursery. Staff are not permitted to warm bottles or feed your children while they are in the nursery.
Children will be changed if they have a soiled diaper after arrival in the nursery. However, the staff reserve the right to get parents for the purpose of changing their own child(ren).
Please put your child's name on all diaper bags, toys, etc.
Please encourage your children to pick up the toys they were playing with before leaving the nursery.
Thank you for your cooperation.
Code of Conduct
The YMCA is committed to providing a safe and welcoming environment for all members and guests. To promote safety and comfort for all, we ask individuals to act appropriately at all times when they are in our facility or participating in our programs.
We expect persons using the YMCA to behave in a mature and responsible way, and to respect the rights and dignity of others. Our Code of Conduct does not permit language or any action that can hurt or frighten another person, or that falls below a generally accepted standard of conduct.
YMCA staff members are eager to be of assistance. Members and guests should not hesitate to notify a staff member if assistance is needed.
In order to be able to carry out these policies, we ask that members and guests identify themselves to staff when asked.
The Branch Executive will investigate all reported incidents. Suspension or termination of YMCA membership privileges may result from a determination by the Branch Executive if in their discretion a violation of the YMCA Member Code of Conduct has occurred.
Prohibited actions specifically include:
Inappropriate attire. Appropriate attire must be worn at all times.
Angry or vulgar language, includes swearing, name-calling or shouting.
Physical contact with another person in any angry or threatening way.
Any demonstration of sexual activity or sexual contact with another person.
Harassment or intimidation by words, gestures, body language or any menacing behavior.
Theft or behavior that results in the destruction of property.
Carrying or concealing any weapons or devices or objects that may be used as weapons.
Using or possessing illegal chemicals or alcohol on YMCA property, in YMCA vehicles, or at YMCA sponsored programs.
Any other conduct of any inappropriate, threatening or offensive nature.
Loitering either inside or outside the YMCA premises is strictly prohibited. Loitering is being at the YMCA, inside or out, for a period of time without a purpose or without using the YMCA facilities for their intended purpose (includes waiting in any area of the YMCA for longer than 20 minutes and any sleeping on premises).
Soliciting either inside or outside the YMCA premises is strictly prohibited unless specific permission (who, what, where, when, how) has been given by a YMCA Director. Solicitation is any form of requesting money, support or participation for products, groups, organizations or causes which are unrelated to the YMCA.
Smoking (including all electronic smoking devices) is not permitted inside or within 25' of a door or window. The YMCA and its property is a smoke-free environment.
Members and guests are encouraged to be responsible for their personal comfort and safety, and to ask any person whose behavior threatens their comfort to refrain. If a member or guests feels uncomfortable in confronting the person directly, they should report the behavior to a staff person or the Building Supervisor on duty.
Sex Offender Policy: Since it is contrary to the mission of the YMCA to be a sex offender, the YMCA will deny or revoke a membership to such a person. If such a person is currently a member when we discover he/she is or has ever been classified as a sex offender, we will refund the percentage amount of the membership fee that is still valid. A no tolerance stance will be taken on all sex offenders.
(see also Supervision of Youth)
Lane Sharing
During busy times it is necessary for our members to share pool space. Members not agreeing to share lanes will be asked to get out and wait until space becomes available. 
Splitting the Lane (2 swimmers): In this scenario, one of you swims on one side of the lane and one of you swims on the other. If you're splitting the lane, you stay in your half no matter what.
Circle Swim (3+ swimmers): Much like traffic on a road, always swim on the right side of the lane. This means swimming on one side of the lane going down and the other side of the lane coming back. Swimmers move in a counterclockwise circle, hence the name.
Phones
YMCA phones are for business use. The exception to this is to call for an immediate ride which should be kept short, under 2 minutes.
Locker Rentals
Lockers are available to rent at the Massillon Family YMCA and Towpath Trail YMCA. Although we provide large lockers for daily use, small lockers may be rented by completing a locker rental agreement at the Welcome Center.
Medical Checkup
We strongly advise a checkup by your health care professional before you begin any type of fitness program. We also recommend annual medical evaluations for all participants.
Online
Members of the YMCA of Western Stark County can log into their account 24 hours a day, 7 days a week by going to www.WestStarkY.org and clicking on the link provided. We can also be found on Facebook and Twitter for special announcements, registration reminders, health and wellness information, and much more.
Programs
The Y is the starting point for many youth to learn about becoming and staying active, and developing healthy habits they'll carry with them through-out their lives. And the benefits are far greater than just physical health. Whether it's gaining the confidence that comes from learning to swim or building the positive relationships that lead to good sportsmanship and teamwork, participating in sports at the Y is about building the whole child, from the inside out.
Registration
All programs and classes have a deadline for registration to enable us to have the appropriate staff to child ratio. The deadlines range from one day before the class starts to two weeks before the class starts. You may sign up after the deadline, if there is room available; a $2 late fee will be charged. All programs have a minimum and maximum participant requirement. In the event that a class has a waiting list, additional classes may be added to accommodate those waiting based on the number waiting.
Payment must be made at the time of registration to hold your place in the class you register for.
As a benefit of their membership, members will have priority registration of 10 extra days to register. See our Program Guide for registration and session dates.
Program Cancellation and Refund Policy
The purpose of our refund policy is to allow the YMCA to offer quality programs and proper class ratios while maintaining flexibility to our members.
The YMCA reserves the right to cancel or combine classes because of insufficient enrollment or conditions beyond our control. If we combine classes and the rescheduling prevents you from participating, you will be given a full refund/credit. If we cancel any class or program in which you are enrolled, a 100% refund/credit will be given.
In order to keep our class fees as low as possible, we will not be able to issue refunds for missed classes or activities, even if they occur as a result of inclement weather. You may not make up in another section of a swimming or tumbling class because of the design of the programs.
Participants withdrawing from programs will be given 100% refund/credit of the fee paid if the request is made in writing prior to the first class. After the first class the refund is 50%. There is no refund after the second class except for medical reasons.
Weather Related Cancellation Policy
Posting of weather related cancelled classes & facility closings will be on facebook.com/ymca.weststark. Each branch also has Remind text alerts set up for group exercise/fitness related changes and cancellations. See the welcome center for how to sign up.
Racquetball Court Reservations
Reservations are not required, but are encouraged. Members may reserve courts up to 2 weeks in advance, but no less than 1 hour before reserved time. Racquetball players may reserve a 60 minute time slot. A group of wallyball players may reserve 2 hours. Please be on time! If members are 10 minutes late for their reserved time, the court may be given away. Stop at the welcome center and we will be happy to put you in the book.
Supervision of Youth
All children 9 and under must have an adult or responsible older sibling present in the facility at all times. Children 7 and under must have an adult or responsible older sibling with them at all times.
Pool: Youth 4 years and under must be within arm's reach of an adult in a swim suit at all times. Youth 5 to 7 years must have an adult in the pool area at all times.
Fitness Center: Youth ages 10 to 12 must be supervised by an adult in the fitness center. 13+ without an adult present. No children under 10 permitted.
Your Membership Makes a Difference
As a charitable organization, your membership dues not only help us provide quality services and programming, they help us to serve the needs of the community.
If you have a special talent or skill that you would like to share, please let us know. If you see a community need that the YMCA can step forward to meet, please let us know. If you are ready to take your membership to the next level by volunteering, please let us know and we will find you a meaningful place with the YMCA.
Our Promise to You...
The YMCA staff recognizes that service to our members is the most important part of our job. Therefore, we make this promise:
Our staff members will be friendly, attentive, and demonstrate caring, honesty, respect, and responsibility.
We will keep our facilities and equipment clean, safe, and well maintained.
We will deliver quality programs that meet the needs of our members and guests.
YMCA OF WESTERN STARK COUNTY
Massillon Family YMCA
131 Tremont Ave SE
Massillon, OH 44646
(330) 837-5116
Towpath Trail YMCA
1226 Market St NE
Navarre, OH 44662
(330) 879-0800
WestStarkY.org/membership-guide